1 min read
AML RightSource Welcomes Director Jessie Osborne

AML RightSource : October 21, 2021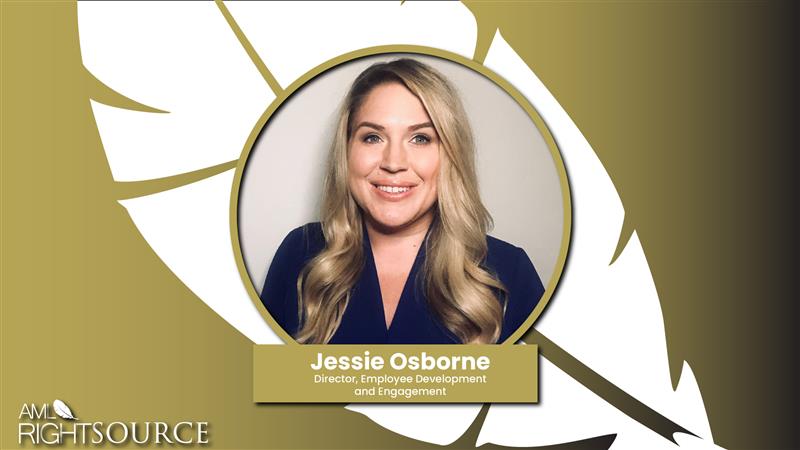 AML RightSource ("AMLRS"), the leading firm focused on fighting financial crime for clients and the world, is pleased to announce that Jessie Osborne has joined the company as Director of Employee Development and Engagement. In this role, Osborne will be tasked with developing, implementing, and sustaining programs that focus on employee development, career progression, employee engagement, and DEI. She will report to Kevin Kerl, Senior Vice President, People Operations & Analytics.
With over 15 years of experience, Osborne is an experienced leader in corporate learning and organizational development. Osborne has developed innovative learning cultures, career pathing programs, and customized leadership models that drive growth and performance. Osborne has worked with a wide range of professional organizations and diverse populations throughout the US, Canada and Latin America, including major beer companies, private consulting in healthcare, staffing and defense contracting.
"As AMLRS continues to grow, Jessie's breadth of experience within organizational education will help us as we continue to integrate our company and people across the globe in an impactful way," stated Frank Ewing, CEO of AML RightSource. "She's truly an expert in this area and will help us during this exciting time of growth and beyond".
"Prioritizing people is what drives thriving organizations," added Osborne. "I couldn't be more excited to join a company that recognizes the relationship between company growth and employee engagement. I look forward to helping leaders build high-performing, talent-dense teams and creating programming and opportunities that gives AML RightSource employees meaningful experiences and careers."
Osborne earned her master's degree in Organizational Leadership from Brenau University in Atlanta, GA. She received her professional certification from Cornell University in Diversity, Equity and Inclusion and is a certified DISC, Emotional Intelligence and Driving Forces trainer and coach with TTI Success Insights. Jessie is a current board member of Rakavii, an organization dedicated to creating academic pathways through athletics, to unrepresented youth. She also serves as a recurring guest lecturer at St. Bonaventure University and is a frequent speaker and workshop facilitator at various SHRM chapters throughout the US.