1 min read
AML RightSource Welcomes Janice Mensah to Executive Team

AML RightSource : September 14, 2021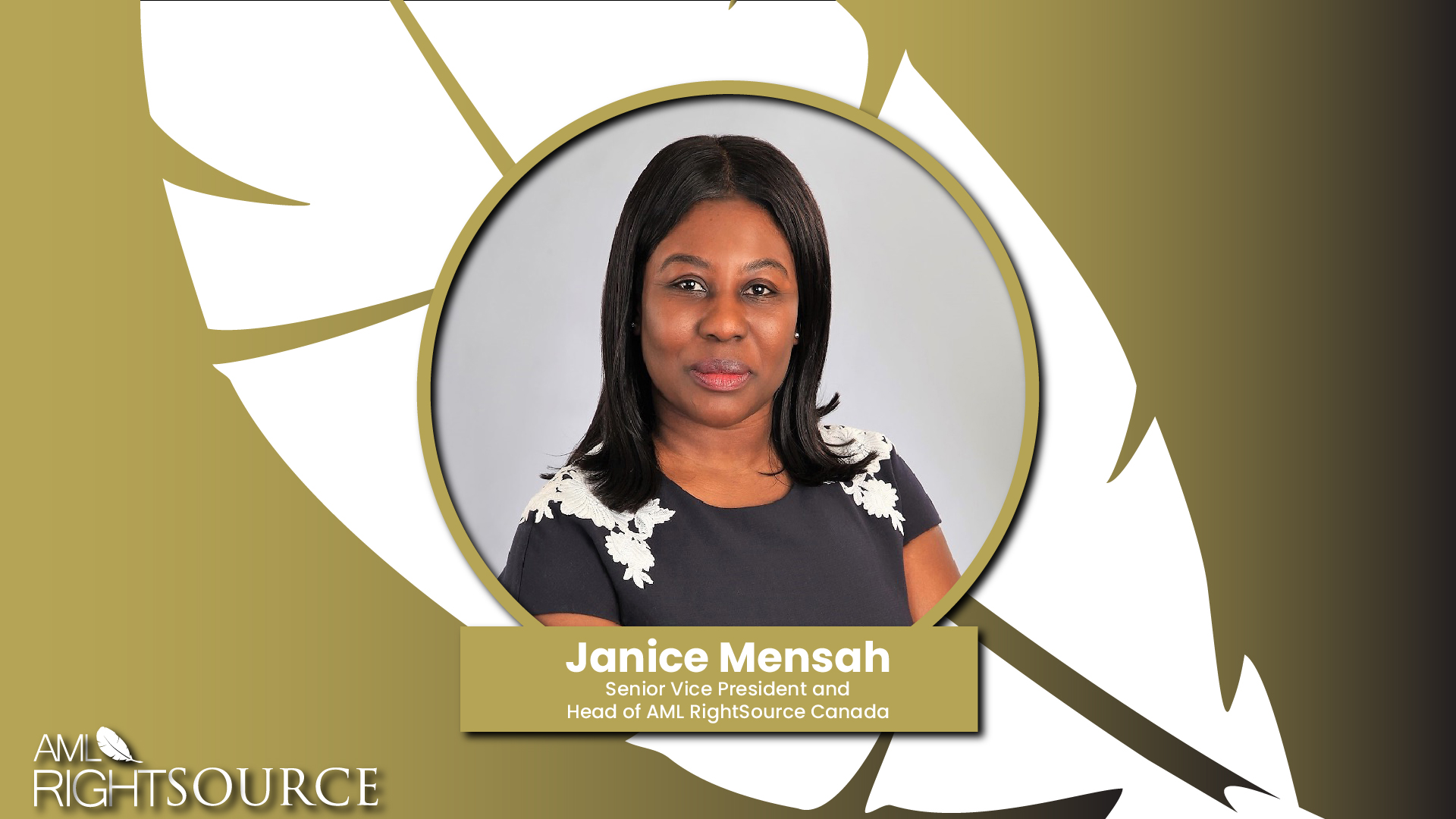 AML RightSource is pleased to announce that Janice Mensah has joined the company as Senior Vice President and Head of AML RightSource Canada. In this role, she will lead AMLRS Canada's managed services operations, working closely with internal delivery teams and interacting with clients daily to continue to enhance our overall delivery and ensure we deliver best-in-class outcomes for our clients.
Ms. Mensah has over 14 years of financial crime and regulatory compliance experience. She spent 12 years as a consultant with KPMG, LLP assisting various global financial institutions comply with the Anti-Money Laundering/Counter-Terrorist Financing (AML/CTF) requirements. In her various management and leadership role at KPMG, LLP in the US and Canada, Janice has executed and led small and large teams in successfully helping clients identify and manage their financial crime risk. She also assisted the firm with its strategic growth initiatives and helped establish cross-functional collaboration between the US and Canadian teams.
Ms. Mensah served as Chief Anti-Money Laundering Officer (CAMLO) for a multi-billion-dollar UK based financial technology company in Canada during its beta testing phase and later double hatted as the Deputy Bank Secrecy Act (BSA) Officer for the company's US operations. In her role as CAMLO, she was responsible for the management and oversight of the company's AML/CTF program and its compliance with local AML regulations and regulatory expectations. As Deputy BSA Officer, Ms. Mensah helped drive the operations and effectiveness of the systems and controls of the company financial crimes compliance teams; whilst supporting the growth and business goals of the company, including assisting with the design and execution of the company's AML/CTF program in Canada, including compliance with its payment service regulatory requirements.
Ms. Mensah has a B.S. degree in Accounting & Management from Luther College and an MBA degree, from King Graduate School of Business.
"Janice's thorough involvement in the AML and financial tech industries is a welcomed addition to AMLRS," shared Frank Ewing, CEO of AML RightSource. "As we expand across the globe, her extensive experience as a consultant will help us serve our clients and provide the most value to them as well."
"I'm excited to enter this next phase in my career with a rapidly growing organization," added Ms. Mensah. "I look forward to playing a pivotal role in the strategic growth of AML RightSource."
The expansion of the AML RightSource executive team comes as the organization has experienced exponential growth in the past year with the acquisitions of Blue Umbrella, Advantage GRC, passcon, Arachnys, and most recently, QuantaVerse.