2 min read
AML RightSource Welcomes Malati Thomas as Senior Director of HR for the Americas

AML RightSource : January 25, 2022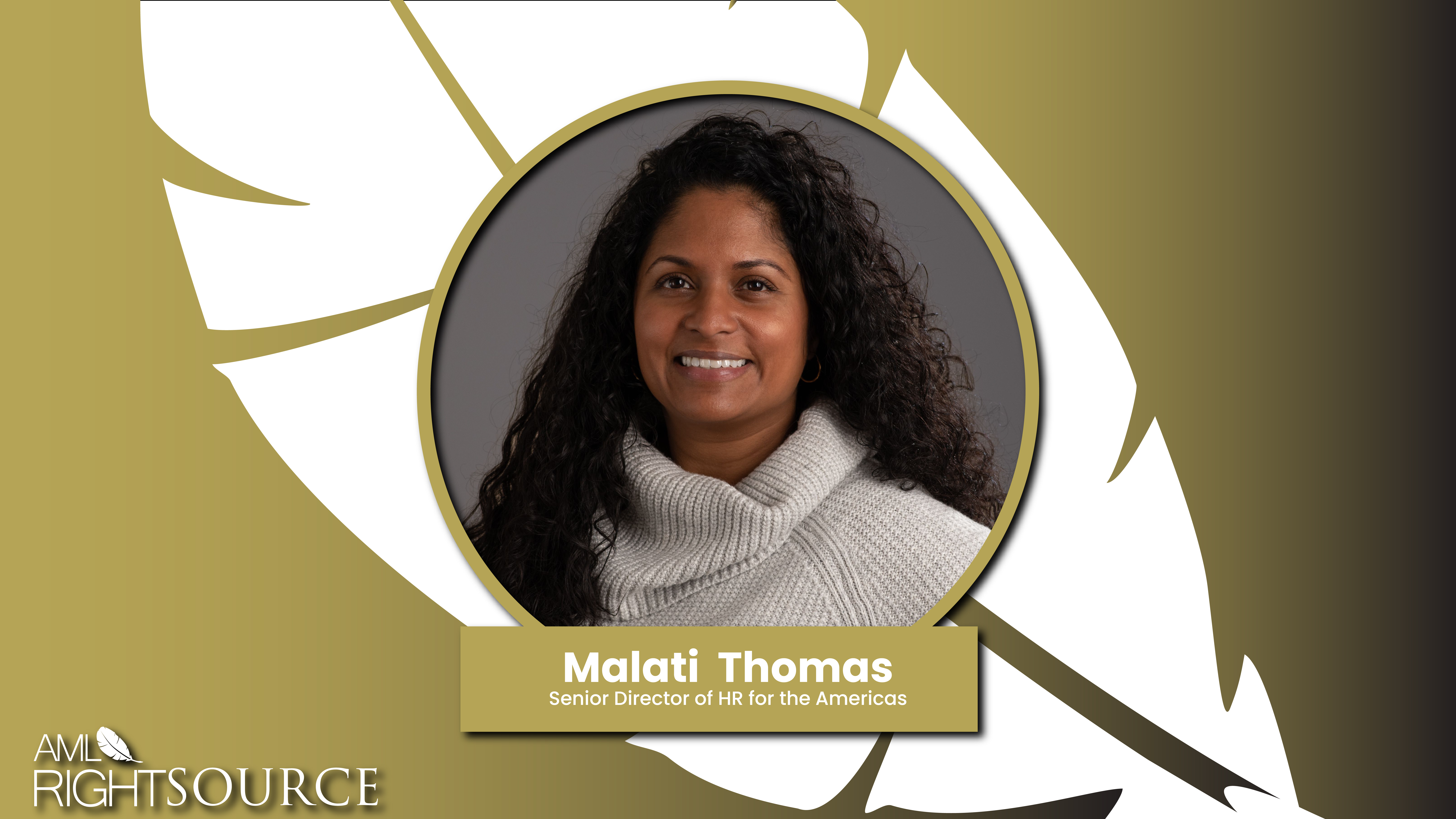 AML RightSource ("AMLRS"), the leading firm focused on fighting financial crime for clients and the world, is pleased to announce that Malati Thomas has joined the company as Senior Director of HR for the Americas. In this role Malati will guide the strategy, with a global perspective, on how AMLRS builds, engages, and retains high-performance teams. Overseeing compliance, regulations, and complex immigration policies in multiple jurisdictions.
In this role, Malati will report to Kevin Kerl, SVP Human Resources.
Thomas began her career as an engineer, leading several process improvement projects for the food manufacturing company, General Mills, before turning her affinity for understanding people, processes, and technology, into a flourishing career as a leader in HR. She will be bringing her passion for aligning human resource strategy with business objectives to AMLRS and will work to create psychological safety to influence change and use analytics to drive decision-making. She most recently served as an HR leader at Rich Products Corporation providing thought leadership and driving improvements to the employee experience by consulting and advising leaders on HR and change management strategies.
Prior to joining Rich's, Malati spent nearly 13 years at M&T Bank holding various roles on both the Customer Experience and HR teams, spearheading the implementation and management of the bank's Complaint Management Program (CMP).
Thomas earned an MBA with concentrations in Finance and Competitive and Organizational Strategy from the Simon Graduate School of Business at the University of Rochester and a Bachelor's degree in Electrical Engineering from the University at Buffalo. She holds a Society of Human Resource Management Senior Certified Professional (SHRM-SCP) certification and a Senior Professional in Human Resources (SPHR) Certification. She also serves on the Simon Graduate School of Business Alumni Board supporting the board's mission of nurturing the school's global alumni community by creating engagement that continues for a lifetime.
She resides in East Amherst, a suburb of Buffalo, with her husband and two sons.
"We are incredibly excited to welcome Malati to AML RightSource as our new Senior Director of HR for the Americas. Her background and experience in HR are outstanding, and her focus on using analytics to inform decision making is perfectly aligned with the AMLRS mindset" stated Frank Ewing, CEO of AML RightSource. "We are pleased to know that as AMLRS continues to grow HR will be under the wise guidance and sure hand of Malati."
"The people in this organization are the greatest asset, and greatest resource, and I look forward to working to develop and implement further HR strategies which will complement the already high-quality workforce." Added Thomas. "It is important to me that we continue to foster a culture that promotes employee engagement, continuous improvement, and strong customer focus."