3 min read
Governor Hochul, AML RightSource Announce $4.3 Million Dollar Expansion

AML RightSource : March 21, 2022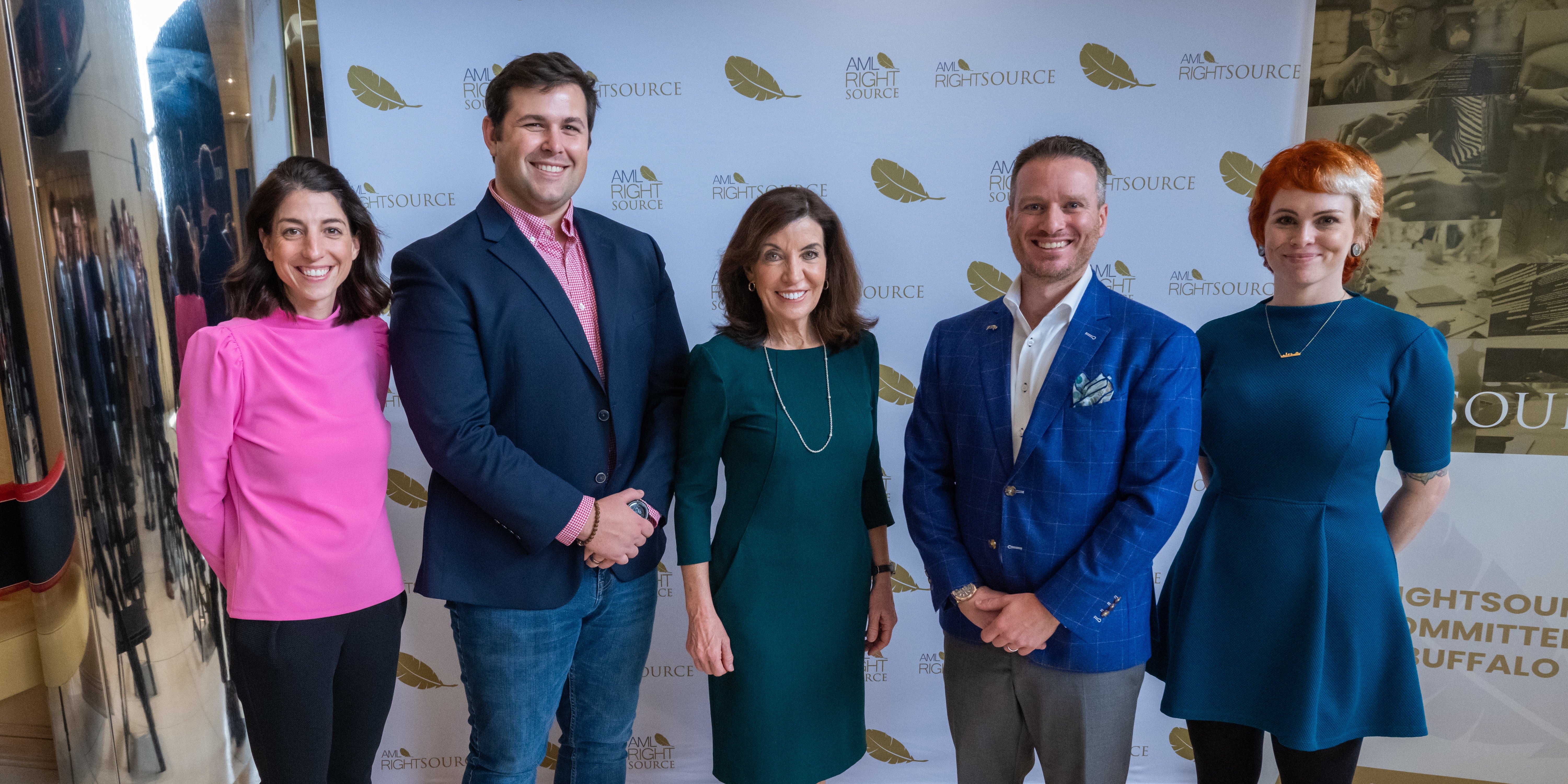 Initiative to Create 363 Jobs in Buffalo
CLEVELAND –- March 21, 2022 — New York Governor Kathy Hochul announced that AML RightSource, the leading firm focused on fighting financial crime for clients and the world, is expanding operations in Buffalo, creating an additional 363 jobs in Western New York.
Addressing assembled press, elected representatives of Western New York, and employees of AML RightSource, Governor Hochul explained that through Empire State Development, New York State will provide up to $7.4 million in Excelsior Job Program tax credits in return for AML RightSource achieving its job creation commitments. The operational expansion will create 363 new jobs over the course of five years, which is in addition to the 175 jobs that have already been created by the company in Buffalo through their previous Excelsior Job Program.
Of the 175 people hired in Buffalo so far, 110 went to a college or university in the region including CEO Frank Ewing, a University at Buffalo Law School graduate. The increased work force will support the addition of new services and clients, resulting in a total headcount in Buffalo of approximately 540 employees. The $4.3 million project also adds an expansion of office space to AMLRS's 20,000-square-foot office on the 27th floor of Buffalo's tallest building, the Seneca One Tower.
"AML RightSource is another success story for Western New York, growing and providing hundreds of well-paying new jobs in a building that was empty just a few years ago," said Governor Hochul. "These are the types of professional and high-tech jobs that will keep our new college graduates in the area, while also attracting other high-quality talent to the region. Through strategic partnerships with companies like AMLRS, New York is continuing to accelerate our post-pandemic economic recovery by attracting businesses from near and far to develop and expand across the state."
"This is a fantastic opportunity for AMLRS, the City of Buffalo, and the State of New York," shared CEO Frank Ewing. "With the ever-present threat of financial crime on both a national and a global scale, it's essential for us to continuing growing."
AML RightSource created a branch in the City of Buffalo in 2019, selecting the location due to its proximity to the company's northeast Ohio operations, accessibility to a large pool of qualified and talented job candidates, and available space to support a growing workforce.
"Western New York's high-quality workforce and growing reputation as a hotspot for tech innovation first attracted AML RightSource to the City of Buffalo," shared Empire State Development Acting Commissioner, President & CEO-designate Hope Knight. "Now the company is doubling down on its investment, creating hundreds of new jobs for qualified people excited to work in the high-tech field of financial crime investigations."
"The reasons AML RightSource originally expanded to Western New York — our hardworking people, growing innovation economy, affordability, and more — all ring even more true today," added President & CEO of Invest Buffalo Niagara Tom Kucharski. "We're so excited to see AML RightSource's success in Buffalo Niagara and look forward to working with the team on continued growth."
Mayor Byron W. Brown said, "AML RightSource's decision to increase its workforce, and expand its operations in the City of Buffalo's Larkinville neighborhood, is wonderful news. The company has already far exceeded the 100 well-paying jobs it promised to create in 2019, and I am very pleased it will boost its employee count to approximately 540. This is further proof that Buffalo's high-tech community is growing and is a key driver of our city's continuing resurgence."
For more information on AML RightSource's involvement and expansion through the Empire State Development program, please visit: governor.ny.gov
About AML RightSource, LLC
AML RightSource is the leading firm focused on fighting financial crime for its clients with Anti-Money Laundering (AML)/Bank Secrecy Act (BSA) and financial crimes compliance solutions. We provide highly trained AML/BSA professionals to assist banks and non-bank financial institutions to meet day-to-day compliance tasks. Services include transaction monitoring, alert backlog management, enhanced due diligence reviews, and financial crimes advisory matters. Our highly trained workforce of analysts and subject matter experts includes the industry's largest team of full-time professionals. AML RightSource is headquartered in Cleveland, Ohio. For more information, visit: www.amlrightsource.com.
About Gridiron Capital
Gridiron Capital is an investment firm focused on partnering with founders, entrepreneurs, and management teams, and creating value by building middle-market companies into industry-leaders in branded consumer, B2B and B2C services, and niche industrial segments in the United States and Canada. We help transform growing companies by winning together through hard work, partnerships grounded in shared values and a unique culture that comes from hands-on experience building and running businesses. As a team led by former operators and entrepreneurs, we know what it takes to run successful businesses on a day-to-day basis. Additional information is available on the firm's website: gridironcapital.com.