2 min read
Ferko Spits appointed Senior Vice President of Managed Services, EMEA

AML RightSource : October 07, 2022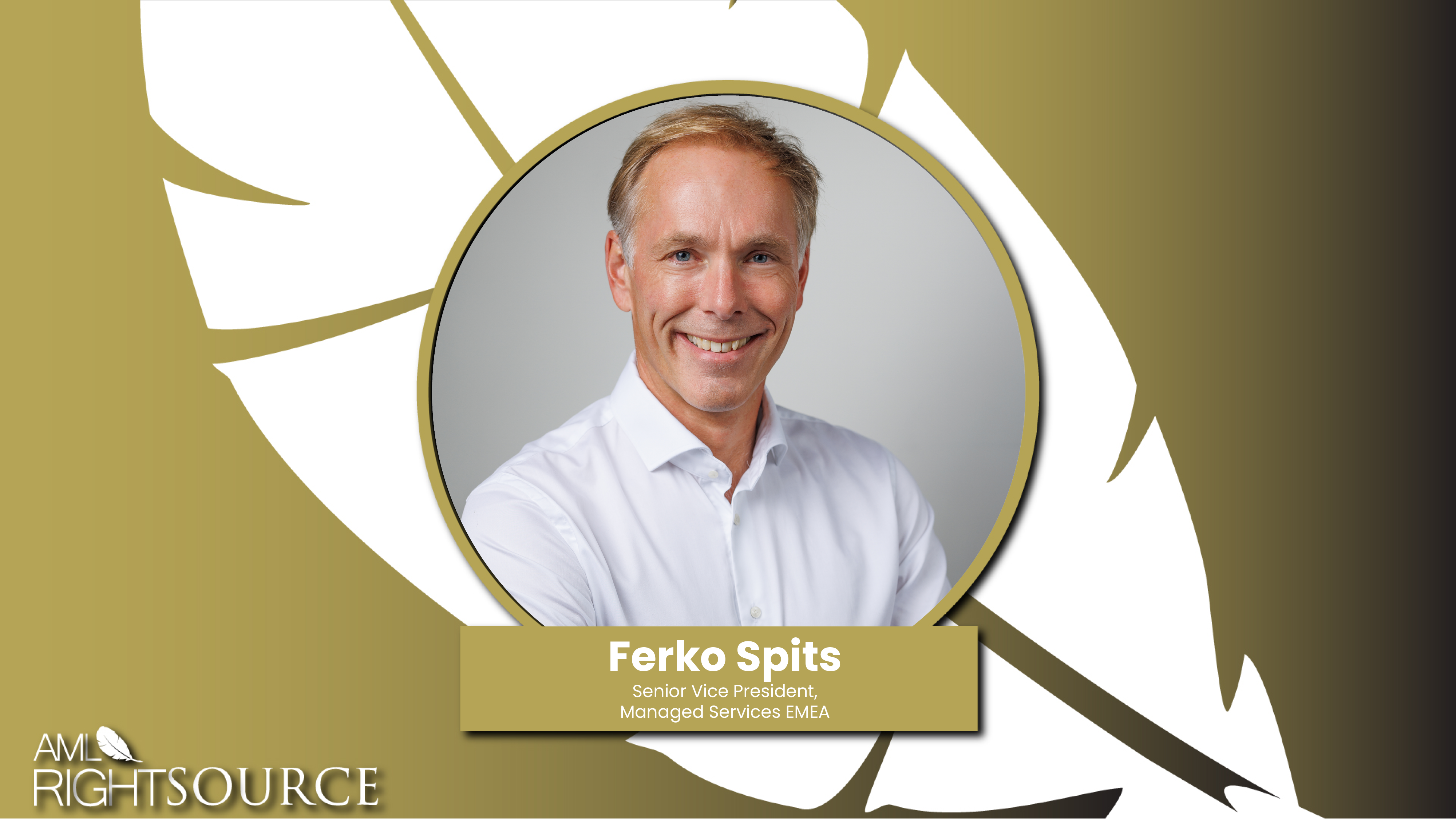 Continued globalization at AML RightSource prompts expansion of leadership team in EMEA.
AML RightSource, the leading provider of financial crime compliance and risk solutions, welcomes Ferko Spits into the role of Senior Vice President of Managed Services EMEA. Ferko will be responsible for serving AML RightSource's growing customer base across the globe and providing true partner and trusted advisory services in the EMEA region. Ferko joins AML RightSource from Genpact where he led their European risk and compliance practice, since 2015.
Spits will report to AML RightSource Chief Delivery Officer, Brad Breslin, and form part of the Managed Services Senior Leadership team. Based in Amsterdam, Ferko will be driving AML RightSource's European delivery operations including its centers in Poland, Bulgaria, and Germany, as well as a rapidly growing presence in India.
"We are excited to have someone of Ferko's caliber and proven expertise joining the AML RightSource family," explains Brad. "He will focus on solving our European clients' regulatory challenges with innovative and sustainable tech-enabled capabilities that are the hallmark of an AML RightSource customer experience."
Prior to his time at Genpact, Ferko spend 10 years at Accenture in multiple leadership roles including Amsterdam and Hong Kong. His extensive career, that started at EY, has seen him delivering across a wide variety of financial crime compliance and regulatory remediation programs including transaction monitoring, know your customer (KYC) and more general compliance operations.
On his joining the business Ferko shares his enthusiasm about the role he is building. "I am very excited to be joining the team at AML RightSource. I'm impressed by our deep domain expertise, global footprint and differentiating technology and our continued partnerships and client support is key to help our clients in the global fight against financial crime."

About AML RightSource, LLC
AML RightSource is the leading technology enabled managed services firm committed to fighting financial crime for financial institutions, FinTechs, money service businesses, and corporations around the globe. With the industry's largest team of full-time compliance professionals, these highly trained analysts and subject matter experts support clients in creating customized solutions to meet day-to-day compliance tasks and strategic changes through AML/BSA, transaction monitoring, client onboarding (KYC), enhanced due diligence (EDD), and risk management, ultimately cutting compliance costs, lowering risk, accelerating analyst work, and increasing productivity. AML RightSource is headquartered in Cleveland, Ohio. For more information, visit www.amlrightsource.com.
About Gridiron Capital
Gridiron Capital is an investment firm focused on partnering with founders, entrepreneurs, and management teams, and creating value by building middle-market companies into industry-leaders in branded consumer, B2B and B2C services, and niche industrial segments in the United States and Canada. Gridiron Capital transforms growing companies by winning together through hard work, partnerships grounded in shared values and a unique culture that comes from hands-on experience building and running businesses. Led by former operators and entrepreneurs, Gridiron Capital knows what it takes to run successful businesses on a day-to-day basis. Additional information is available on the firm's website gridironcapital.com.
Media Contacts:
Alyssa Moddy
AML RightSource – North America
Senior Brand & PR Comms Manager
alyssa.moody@amlrightsource.com

Mark Horwood-James
AML RightSource – Rest of World
Senior Vice President, Global Marketing
mark.horwoodjames@amlrightsource.com
+44 (0) 7537 920834

Mark Tordik
Broadpath for AML RightSource
mtordik@broadpathpr.com
267-608-1200 x503